Since: 09/2013
Script: Evolution
Payment Methods: Paypal, Payza, EP, STP
Income: PTC, PTSU, Revenue Share
YouGetProfit is a great way to earn money online. The value of the daily ads is higher than that would be on an average PTC Site. With buying Advertising Shares Packs you can increase your income.
The referral bonuses of YouGetProfit are high, so it's worth to collect many referrals.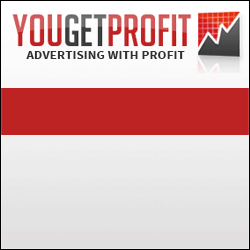 YouGetProfit Memberships
Basic
Referral Limit: no limit
Pay per Click: $0,01 – $0,001
Pay per Referral Click: $0,001
Referral Upgrade Commission: 10%
Referral Ad Purchase Commission: 6% (level 1), 4% (level 2)
Minimum Payout: $2+
Silver
Referral Limit: no limit
Pay per Click: $0,015 – $0,0015
Pay per Referral Click: $0,002
Referral Upgrade Commission: 10%
Referral Ad Purchase Commission: 6% (level 1), 4% (level 2)
Minimum Payout: $2+
Gold
Referral Limit: no limit
Pay per Click: $0,02 – $0,002
Pay per Referral Click: $0,003
Referral Upgrade Commission: 10%
Referral Ad Purchase Commission: 6% (level 1), 4% (level 2)
Minimum Payout: $2+
Platinum
Referral Limit: no limit
Pay per Click: $0,025 – $0,0025
Pay per Referral Click: $0,004
Referral Upgrade Commission: 10%
Referral Ad Purchase Commission: 6% (level 1), 4% (level 2)
Minimum Payout: $2+
Infinity
Referral Limit: no limit
Pay per Click: $0,03 – $0,003
Pay per Referral Click: $0,005
Referral Upgrade Commission: 10%
Referral Ad Purchase Commission: 6% (level 1), 4% (level 2)
Minimum Payout: $2+